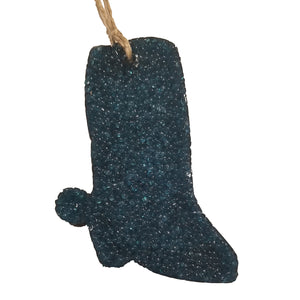 Boot (Large) Aroma Bead Air Freshener
Our handmade aroma bead freshie air fresheners are a great alternative to cardboard air fresheners. They have the scent of a candle without the danger of a flame. Use them in cars, closets, lockers, gym bags, drawers, and cabinets. They are also perfect for fundraisers, company giveaways, gifts and so much more.  
Our inventory changes on a daily basis.  If you do not see a particular scent in stock for the shape you want we can make it for you. Our lead time could be as long as one week depending on if we have the scented beads already prepared.  Large orders could take as long as 2 - 3 weeks to ship.  Please contact us at orders@sweetnsassyscents.com for custom orders.
Join our Facebook group to stay updated on new scents, shapes, and current inventory.
Size: 3.75 Tall x 5.25" Wide
Click here to see a list of our scent descriptions.
Warnings:
Although it has not happened to our products, it is a known fact that some pigments may discolor over time when exposed to sunlight.  To prevent this, some people hang the air fresheners on the turn signal of their car instead of the rear view mirror.
Keep out of the reach of children and pets.  Do not eat.  Do not set on wood, plastic or painted surfaces.  Do not leave on dashboards or in cars if the temperature is extremely hot.  When using sun shades in your car be sure to put your air freshener on the side facing the inside of your car.  It should hang freely from your mirror.  Do not let it sit on the side facing the windshield otherwise it may melt.  Do not use in wax burners because they will melt.  Keep away from flames.  You may not smell the air freshener after some time because you have become nose blind to a scent but others will.  Therefore, it is not recommended that the same scent is used back to back.